Custom
Harkening back to the days where dealers collaborated with speed shops to produce branded high performance versions ala Baldwin Motion, the HTR-GS640/SC is the creation of Howard Tanner of Redline Motorsports and Dan Carlton of DeNooyer Performance Chevrolet. Take a Grand Sport Corvette, add an Edelbrock E-Force supercharger and host of other upgrades and you got a 640 horsepower ZR1-fighter for just over $82,000.
This extra widebody Corvette Z06 from Dubai was spotted on the Corvette Forum under a thread entitled "This widebody stuff is getting ridiculous". SS-Vette.com makes the flared rear panels which gives the Corvette a 6″ wider stance over the standard stock Z06/Grand Sport quarter panels.
Check out this former 2008 Hertz rent-a-car Corvette ZHZ that has been customized to look like the 2012 Corvette Stingray Concept that appears as Sideswipe in Transformers 2: Revenge of the Fallen. The Corvette is listed on eBay and with 3 days left in the auction, 6 bids have run the price up to $35,200 with the reserve not yet met.
Hot Rod Magazine has a feature coming out later this year in which they take a C4 Corvette and show you how to make it outrun a new Corvette for dirt cheap. To help promote the story, they released a teaser vid on the Corvette Forum which shows the hot rod staff literally tearing and cutting apart a 1985 Corvette. Big mistake according to the C4 Corvette owners who have chimed in against the gratuitous destruction of their favorite sports car.
The Classic Corvette Club UK held their 30th Anniversary Nationals show recently and corvette owners turned out to display a variety of the classic American sports car from all generations. Like most shows, participants entered Corvettes ranging from stock through modified, race cars and recreations. Some of the customs are very well done and so we thought a pictorial feature would be nice to show what our brothers and sisters from across the pond are doing to their Corvettes.
Here is a former 2006 SEMA car that was ahead of its time. The Genaddi Design Group heard the requests from Corvette owners early on and built this one-off custom roadster out of a Corvette Z06. It can now be yours for the low, low price of $175K.
The 1954 Corvette was never known for its performance. After all, it was originally equipped with a 155-hp straight six blue flame engine and a 2-speed powerglide transmission. But that didn't stop Timeless Kustoms of Camarillo, California for rewriting history as they resurrected a 1954 parts car into this LS9 powered custom show stopping roadster.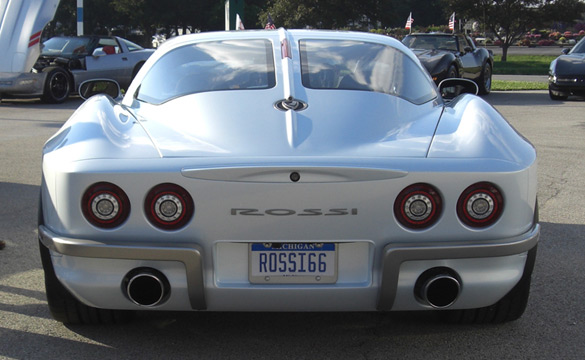 Here are some real world photos of the C6 Corvette-based Rossi SixtySix from its appearance at the Bloomington Gold Corvette show last weekend. While computer renderings are cool in all, it's refreshing to see a car actually live up to the hype.
Almost two years ago the world was introduced to the Rossi SixtySix, a C6 Corvette refitted with custom panels that borrow some of the best design features of the 1963-67 Sting Rays while updating the mid-year look for the 21 century. No longer just a dream, the Rossi SixtySix project is tooled up and well underway with the first car, a Pearl White Split Window Coupe making its public debut this Sunday at Detroit's EyesOn Design benefit.