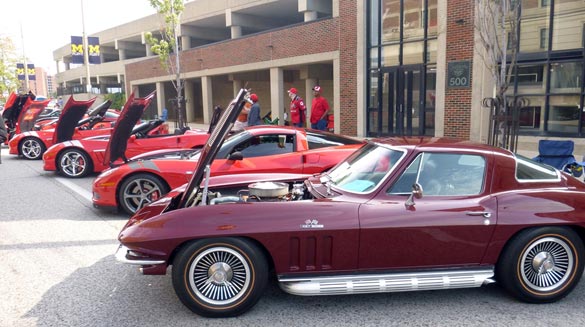 The Corvette Reunion and Back to the Bricks events welcomed hundreds of thousands of spectators and participants in downtown Flint, for their largest and most successful event since the show's inception. This is quite an accomplishment when you consider that just sixty miles to the south of the historic city the world's largest one day automotive event, the Woodward Dream Cruise, was taking place.
But as in the past years it did not seem to limit the exuberant crowds that flocked to the "vehicle city", birthplace of the Corvette, to view almost 800 Corvettes and several thousand other muscle, performance, custom and classic cars on display in what has been recognized as one of the top twenty automotive events in the country, Corvette Reunion/Back to the Bricks show.
But what takes place each year in Flint is more than a car show, it has become a lifestyle event encompassing support activities throughout the prior week and a place where car enthusiasts can enjoy cars of all descriptions from the finest restorations and customs, to state of the art restomods; blue chip investment classics to rusted out rat rods; show cars and cars in various stages of completion; and, of course, the icing on the cake are the hundreds of Corvettes that have become a feature of the event. And the commonality for all the cars is the outgoing owners more than willing to tell you the interesting stories about their rides.