C5
You'll be thinking about this Corvette all day and wondering why…

Source:
Corvette Forum
Related:
Corvette Pic of the Day: Red White and Blue 4×4 Edition
Corvette Pic of the Day: 10 Corvette Grand Sport Coupes
I'm not gonna lie. This video is a hard one to watch. The owner of C5 Corvette gets turned around and bangs into a wall somewhere on Chicago's Dan Ryan Expressway. He may have thought his bad luck would end there, but he's about to find out first hand the damage that can be done to a Corvette by a tow truck operator who's primary mission is to clear the road, not the care and safety of the C5 Corvette in his possession.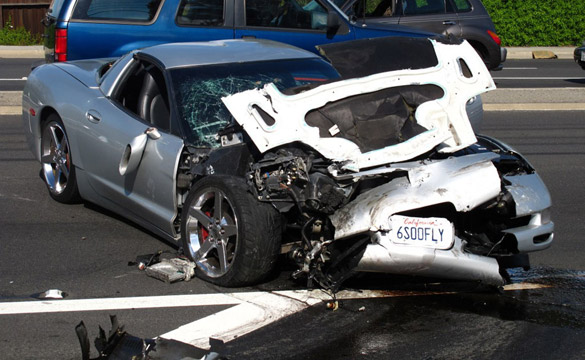 The driver of this 1998 Corvette was allegedly racing another vehicle (article says Corvette, we heard Mustang) in Long Beach. Apparently a street light turned red and the other car stopped, but the Corvette blew the light at 100 mph, hitting a Toyota Cressida which sheered it in half. Miraculously, no one was seriously injured in the crash. No charges were filed at the scene against the Corvette driver, but police are still investigating.
Jay Leno took his C5 Corvette Z06 for a spin the other day without ever leaving the confines of his garage. How'd he do that, you ask? He invited the gurus from Drag Tag Simulations to Jay Leno's Garage who set up a virtual driving environment that is part dyno, part video game. With his Yellow Corvette Z06 strapped to the platform, Jay was able to cruise the virtual streets and even got in some quarter mile runs. Check out the video after the jump.
One of the things I love about Corvettes is that you can learn something new every day about them as well as how they fit it to all different niches of America's car culture in general. For me, today's lesson comes from the term "Murdered Out" which the Urban Dictionary describes as a vehicle that is black with black wheels and looks very intimidating. So I think you'll agree this 2004 Matte-Black Corvette Z06 easily fits that description.
This black C5 Corvette was minding its own business when it was struck by a silver car. The silver car was trying to avoid getting on the expressway when it switched lanes suddenly and collided with the black Corvette. The Corvette struck a van and then jumped the curb and hit a palm tree outside the television studios of KIII-TV.
A stolen C6 C5 Corvette sent to Davey Jones Locker in the Choke Canyon Reservoir in McMullen County Texas was recently recovered by the Texas Rangers. Earlier this month a dive team from the Texas Rangers found the submerged Corvette while searching for a missing 57-year-old woman who was reported missing along with her car. Fortunately, the woman and her car were found safe in Larado, so the dive team went ahead and pulled the Corvette to dry land.
The builder of this hot mess that was once a C5 Corvette Convertible appears to have spared no expense in bringing his vision of the sci-fi show Battlestar Galactica to the roads of Istanbul, Turkey. With all that custom body work, the massive wing held down by 20 bolts, and the Zonda-style exhaust, the finishing touch is the Battlestar Galactia sticker on the rear. Now, if I remember the TV show correctly, Apollo and Starbuck flew "Vipers" but why get hung up on semantics. Those with weak constitutions or acid reflux issues should turn away now.
Article Contributed by Steve Burns
Our 2 earlier previews have focused on some of the older cars in Bob McDorman's grandiose collection. Today in our 3rd and final preview, we'll focus one some of the later model Corvettes that will be available at no reserve this Saturday, November 6th at McDorman's Chevrolet dealership in Canal Winchester, OH.
Here is one customized Corvette you won't see a SEMA. With the demographics of Corvette owners trending older, I'm sure this won't be the last Corvette to feature a scooter carrier. Hands down, the kicker of the photo is the "BYE" handicap vanity license plate which shows the owner not only has their faculties, but a keen sense of humor as well.