C3
Where do 1970s Corvettes go to die?
Apparently New London, Connecticut, if this Craigslist ad is any indication.
You don't see this every day! This C3 Corvette rests a top a 4×4 chassis and together they equal awesome! Watch the mud fly as the 4×4 make several runs through the course.
Visit CorvetteVideos.TV for the best selection of hand-picked Corvette videos.
With all the discouraging news coming out of Detroit these days, thanks to millions of recalls, here's a story that will bring a smile to a Chevy enthusiast's face.
First, though, we have to go back to 1981. That when George Talley, in his late 30s, reported that his 1979 Corvette had been stolen just three miles from General Motors' world headquarters in Detroit.
The 2014 edition of The Granddaddy of all Corvette shows, Bloomington Gold, took place last weekend in Champaign, Illinois. This year was the show's the second year on the University of Illinois campus in Champaign. Our super fantastic photo gallery from the event awaits you after the break.
It's Friday and we thought a gallery of Corvette images would be a cool way to wrap up the week. Here's our salute to Black Corvettes with a random photo gallery made up of 32 Corvettes spanning seven generations.
If you love Black Corvettes as much as we do, make sure you share this page on Twitter and Facebook.
Here's another 1969 L88 Corvette at the track. Watch that front end lift on take-off!
1/4 mile drag test of an ultra rare Pure Stock 1969 L88 Corvette powered by a factory aluminum head, solid lifter, 430 Horsepower 427 big block. The L88 is extremely rare and valuable as only 116 were built in 1969. How valuable? Recently, L88 Corvettes have sold for more than 1 million dollars.
The other L88 drag race that we recently posted also featured a 1969 L88 Corvette vs a 1972 Olds 442.
Visit CorvetteVideos.TV for the best selection of hand-picked Corvette videos.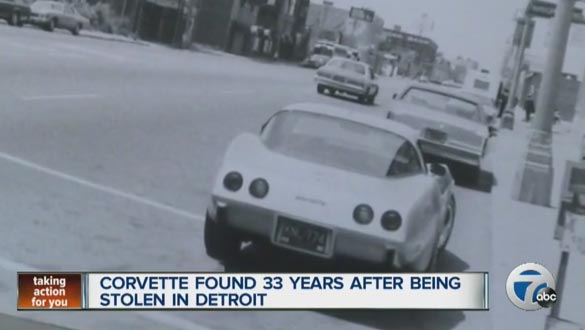 For all you unfortunate folks out there who have had their Corvettes stolen over the years, never to see your pride and joy again, don't give up hope.
You see, George Talley of Detroit, Michigan, offers up a reason to look at the glass as half full.
His 1979 Corvette was parked on Jefferson Avenue 33 years ago when someone swiped it.
To say that eBay has been a boon to those who are perennial car-lookers, like most of us Corvette fans, is overstating the obvious. You just never know what you're going to find.
For instance, a currently running auction on eBay is offering a 1969 Riverside Gold Corvette convertible in survivor condition showing only 51,089 miles "that is believed to be original" in the ad's words, being sold by the guys at the Gas Monkey Garage featured on the TV show Fast N' Loud.
During the horsepower era of the sixties and early seventies, several dealers and tuners rose to prominence as the place to go if you wanted more performance out of your Chevrolet.
We've recently featured a 1969 Corvette from Nickey Chevrolet in Chicago, which was a great place to have your Corvette souped up if you lived in the midwest. But if you lived over on the east coast, chances are your dealership/tuner of choice would be Joel Rosen and Baldwin Motion on Long Island, NY.
Overall Mecum's first trip to Seattle was met with an over flow of enthusiastic bidders and collectors. Mecum obviously worked overtime to offer their customers a varied assortment of excellent collector cars. When the curtain came down Mecum had to be pleased with their initial foray into the Pacific Northwest setting a world's record for a muscle car when a 1971 Plymouth Hemi Cuda was hammered for $3.5M. It was obviously a muscle car market since it definitely was not a Corvette market.
Mecum put together a dynamite docket of outstanding investment level Corvettes for their introductory event in the Northwest and though there was strong bidding for a some of the Corvettes, the majority of bids did not meet the consignor's reserves and 65% of all Corvettes offered over the two day event went unsold and none of the four featured Corvettes sold.
Another indication of disappointing results for Corvettes was the fact only one Corvette was able to make the top-ten list, a 1958 restomod. That is almost unheard of for the world's largest Corvette seller who typically has almost half of the top ten occupied by America's sports car.