Videos & Pictures
Jan Magnussen and the #3 Corvette C6.R rocketed to third position during Friday's qualifying session for the Acura Sports Car Challenge at Mid-Ohio. Magnussen turned a fastest lap of 1:21.454. The GT2 Pole goes to the 1:21.022 (100.328 mph) run by #45 Flying Lizard Porsche and three-time champion Joerg Bergmeister. Oliver Gavin qualified the #4 Corvette C6.R at six position and was half a second off the class leader.
Bergmeister took time to comment on the Corvette's debut in the GT2 class:
"They might be sandbagging. We'll see what they do in the race," Bergmeister said. "It's been impressive so far seeing them close to the top. We have to stay out of the fight with those guys and stay ahead.
We don't have video of the qualifying session, but thanks to Chris at Corvette Info Center we have a video from Oliver Gavin of a recent GT2 Corvette C6.R shakedown session at Gingerman Raceway.
As said by one of the broadcasters during today's radio lemans coverage of the qualifying session: "I hear the sound of thunder".
Update
Check out the Mid-Ohio photo gallery at BadBoyVettes
Sponsored By:

Bondurant School of High Performance Driving

Source:
American LeMans and Corvette Info Center

Related:
Corvette Racing: Inside the GT2 Corvette C6.R
A New Era: Introducing Corvette Racing's GT2 ZR1 C6.R
Technorati Tags:
Corvette | Vette | Chevrolet | Chevy | GM | 2009 | GT2 | ALMS | C6R | Racing | Jake | Mid Ohio | MidOhio
Hat Tip: Corvette Info Center
Sponsored By:

Bondurant School of High Performance Driving
We got a sneak peak on a new Corvette video series coming from the creators of Vette Girl and Vette Dogs. Vette Garage: The Series will be filmed entirely in HD and will debut on DigitalCorvettes.com sometime this fall. I'm sure we'll have more details as the series gets closer to launching, but in the meantime enjoy this preview: Vette Garage: The Series
That's the questions being posed by UK-based Autocar in this video showing a 2009 Cyber Gray Corvette ZR1 going flat out through the English countryside in pursuit of the unknown chase car. With the narrow twisty roads, the ZR1 gives the thought of a pass now and again, but always backs off, but not before unleashing the 638 horses for a few seconds. Watch closely at the 1:53 mark as the ZR1 catches some serious air that lifts all four wheels off the road.
You can see what kind of car people are guessing is the lead car by visiting the page on
Youtube
.

Source:
Autocar.co.uk
Related:
Clarkson Selects Corvette ZR1 as his Car of the Year
[VIDEO] In Jay Leno's Garage: The Corvette ZR1
[VIDEO] Corvette ZR1 Spanks GTR, 599 GTB and GT2 Head to Head
Technorati Tags:
Corvette | Vette | Chevy | Chevrolet | GM | 2009 | C6 | ZR1 | Racing | Video |
This is a short but sweet forty second walk around the Corvette Stingray Concept featured in this summer's Transformers: Revenge of the Fallen movie. The video appears to have been shot during production. For a brief instant I thought we'd finally get a look at the interior.
When the driver side door was opened, I was praying for that allusive interior shot. However, you can see the two-tone red/silver seats and it looks like the dash and steering wheel may be red as well.

Source:
twitter.com/JT_Lewis

Related:
Transformers Corvette Concept Revealed as Sideswipe
Transformers Mystery Car Revealed as Corvette Centennial Design Concept
Transformer's Corvette Concept Revealed

Technorati Tags:
Corvette | Vette | Movie | Transformers | C7 | Stingray | Concept | Design | Centennial | GM |
We're spending this 4th of July weekend in Savannah and while taking a walk in the historic distric, low and behold I come across this 2010 Corvette Grand Sport. As it had a Michigan license plate and a "captured test fleet" sticker on the window, I figured some lucky GM engineer was also in town for the wonderful Southern atmosphere and holiday fireworks.
I tried to explain to my family the significance of running across one of these new Corvettes but frankly they think I'm crazy. I'm not crazy, I just have "Corvette Fever". I took a pic right there on the spot and sent it to my Twitter account. I tried to explain that process to them too, but then realized I probably am crazy.
So what are the odds of a Corvette Blogger running across one of these CTF Corvette Grand Sports while on vacation? Slim to none is my thinking so I'm buying a lottery ticket tonight. Who knows, maybe lightning will strike twice!
Related:
[VIDEO] 2010 Corvette Grand Sport Convertible Walk Around
[VIDEO] Juechter: Corvette Grand Sport is the New Z51
[VIDEO] Introduction and Reveal of the 2010 Corvette Grand Sport
Exclusive Photo Gallery: The 2010 Corvette Grand Sport

Technorati Tags:
Corvette | Vette | Chevy | Chevrolet | GM | 2010 | Design | Grand Sport | C6 | Widebody | Wide body |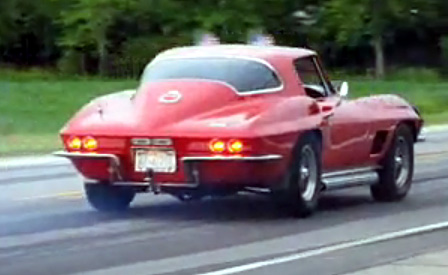 It's always fun when you see a guy riding a classic Corvette hard. In this video from last weekend's Bloomington Gold parade, the owner of this Riverside Red '67 Coupe decides to show how a real burnout is done.
From Corvette Forum Member 67-427ci:
Saturday evening we were invited to attend a picinic held by the Fox Valley Corvette Club which is quite a gathering out in the country. The parade of approximately 500 corvettes goes past the picinc site and is quite a site to see. A few volunteers are out at the road to help control traffic while more cars than I can count stop and do their best attempt at a burnout. Since there were no good C2 attempts made some old guy in a Red Coupe gave it a try.
Stones, indeed!

Source:
67-427ci@Corvette Forum
Related:
[VIDEO] God Bless America: L88 Corvettes on Parade Technorati Tags:
Corvette | Vette | Chevy | Chevrolet | GM | Bloomington | Gold | parade | Burnout | Video | Show