Videos & Pictures
This is a short but sweet forty second walk around the Corvette Stingray Concept featured in this summer's Transformers: Revenge of the Fallen movie. The video appears to have been shot during production. For a brief instant I thought we'd finally get a look at the interior.
When the driver side door was opened, I was praying for that allusive interior shot. However, you can see the two-tone red/silver seats and it looks like the dash and steering wheel may be red as well.

Source:
twitter.com/JT_Lewis

Related:
Transformers Corvette Concept Revealed as Sideswipe
Transformers Mystery Car Revealed as Corvette Centennial Design Concept
Transformer's Corvette Concept Revealed

Technorati Tags:
Corvette | Vette | Movie | Transformers | C7 | Stingray | Concept | Design | Centennial | GM |
We're spending this 4th of July weekend in Savannah and while taking a walk in the historic distric, low and behold I come across this 2010 Corvette Grand Sport. As it had a Michigan license plate and a "captured test fleet" sticker on the window, I figured some lucky GM engineer was also in town for the wonderful Southern atmosphere and holiday fireworks.
I tried to explain to my family the significance of running across one of these new Corvettes but frankly they think I'm crazy. I'm not crazy, I just have "Corvette Fever". I took a pic right there on the spot and sent it to my Twitter account. I tried to explain that process to them too, but then realized I probably am crazy.
So what are the odds of a Corvette Blogger running across one of these CTF Corvette Grand Sports while on vacation? Slim to none is my thinking so I'm buying a lottery ticket tonight. Who knows, maybe lightning will strike twice!
Related:
[VIDEO] 2010 Corvette Grand Sport Convertible Walk Around
[VIDEO] Juechter: Corvette Grand Sport is the New Z51
[VIDEO] Introduction and Reveal of the 2010 Corvette Grand Sport
Exclusive Photo Gallery: The 2010 Corvette Grand Sport

Technorati Tags:
Corvette | Vette | Chevy | Chevrolet | GM | 2010 | Design | Grand Sport | C6 | Widebody | Wide body |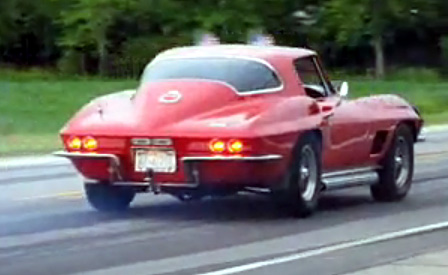 It's always fun when you see a guy riding a classic Corvette hard. In this video from last weekend's Bloomington Gold parade, the owner of this Riverside Red '67 Coupe decides to show how a real burnout is done.
From Corvette Forum Member 67-427ci:
Saturday evening we were invited to attend a picinic held by the Fox Valley Corvette Club which is quite a gathering out in the country. The parade of approximately 500 corvettes goes past the picinc site and is quite a site to see. A few volunteers are out at the road to help control traffic while more cars than I can count stop and do their best attempt at a burnout. Since there were no good C2 attempts made some old guy in a Red Coupe gave it a try.
Stones, indeed!

Source:
67-427ci@Corvette Forum
Related:
[VIDEO] God Bless America: L88 Corvettes on Parade Technorati Tags:
Corvette | Vette | Chevy | Chevrolet | GM | Bloomington | Gold | parade | Burnout | Video | Show
The personal car belonging to legendary General Motor's automotive designer Harley Earl was a no sale at Mecum's 2009 Bloomington Gold auction. The Corvette convertible was the main attraction on Saturday where it was introduced with great fanfare. Bidding started at $400,000 for the custom Sting Ray and quickly climbed to the high bid of $985,000 before stalling. The auctioneer proclaimed a no sale (Mecum's the bid goes on) as the seller set the reserve at $1.3 million.
One of more interesting time periods for Corvette came midway through the C4 production run when you could order a twin-turbo for your Corvette. In 1991, the B2K twin-turbo RPO was the only non-GM performance option that could be ordered on a Corvette. This limited edition 1991 Series 1 Corvette Callaway Speedster is #8 of 10 made and used to be part of the Otis Chandler collection before being acquired by Chevrolet dealer and Corvette collector Bob McDorman.
Sales were very few and far between on the second day of Mecum's High Performance Auction at Bloomington Gold. We'll discuss this later when we tabulate the sales results. So when this 1968 L88 Corvette Coupe crossed the auction block, we weren't getting our hopes up that the big block would sell. But the checkbooks came out for an original Bloomington Gold Survivor L88 and the $300,000 selling price was the highest price paid for a Corvette all weekend.
Here is the description of the L88 from Mecum's catalog:
The dominant force of its time in SCCA and FIA competition, the L88 Corvette is still one of the wildest of any generation. With over 560 horsepower on tap at 5600rpm, the L88's thumping powerplant far exceeded its factory-rated 430. Add its requisite F41 suspension, heavy duty disc brakes and indestructible Positraction rear end and the L88 was without peer.

Formerly a prominent piece of the Steve Hendrickson collection, this fabulous 1968 coupe embodies all the qualities dedicated collectors are searching for in their quest for the Holy Grail of Corvettes. In 1991 it collected an amazing NCRS judging score of 95.5 out of 100, and today it counts Bloomington Gold Silver and Survivor Certification awards in its well-documented history.

The car's all-conquering L88 427 engine is complemented with the best from the 1968 equipment list, incorporating transistorized ignition, an M22 "Rock Crusher" 4-speed, J50/J56 heavy-duty power disc brakes, N36 telescopic steering and N11 off-road exhaust. It all comes together wrapped in sparkling International Blue with a Dark Blue interior, both in extraordinary condition, and completed with Rally wheels with correct Red Stripe tires.

Climb into the Dark Blue cockpit, depress the clutch pedal and turn the key, and the L88 barks instantly to life, idling crisply and rewarding the driver with instantaneous throttle response. When everything is up to the right operating temperature, the car answers every command with immediacy only possible in a big block Corvette built specifically for competition.

Documentation includes the Bloomington Gold Survivor Certificate, NCRS judging sheet, chain of ownership, window sticker and Protect-O-Plate.

The L88 legend is still very much alive, and it absolutely thrives in this shining example of the King of Corvettes.

Highlights:

Rare 1968 L88 427 4-speed
International Blue with Dark Blue vinyl interior
All correct original codes and numbers
M22 "Rock Crusher" manual transmission
F41 suspension
J56 heavy duty brakes
N11 off-road exhaust
A01 Soft Ray tinted glass
Telescopic steering column
Red Stripe tires

Source:
Mecum High Performance Auctions

Related:
Bloomington 2009: Twin-Turbo 1991 Corvette Callaway Speedster Sells for $115,000
Bloomington 2009: 1966 Corvette Convertible Sells for $83,500
Mecum's Two-Day Corvette Auction at Bloomington Gold Show
Auction Preview: Mecum Selling Harley Earl's 1963 Corvette Roadster
Technorati Tags:
Corvette | Vette | Chevrolet | Chevy | GM | 1968 | L88 | Auction | Mecum | Bloomington | Gold |
This Ermine White 1966 Corvette Convertible was one of the high points on the first day of Mecum's Corvette auction at the annual Bloomington Gold show in St. Charles, Illinois. The L72 427/425 hp V8 powered Corvette crossed the block early Friday and was sold for $83,500. Video of the sale is after the jump.
In 1966 the very first 427 engines found their way into Corvettes. Legend has it that the horsepower rating was over 450 but GM artificially deflated the numbers to please the insurance industry. The new power plant boosted the sting Ray's street-cred immediately: 0-60 mph in 5.7 seconds and a 14-sec quarter mile.
This Ermine White Corvette is a numbers matching original example featuring the L72 427/425 hp engine. The V8 is mated to a 4-speed transmission with aggressive 4.11 gears while the exhaust exits through its distinct shrouded side pipes. Original Kelsey Hayes knock-off wheels, two tops and a teak wood steering wheel complete the classic package.
Both buyer and sellers should be pleased with this sale. The $83,500 paid puts this car in the top 20 of 1966 Corvette 427/425 prices according to Corvette Market's Database and our Corvette Price Guide has the 1966 Corvette appreciating at 7% per year. Not too shabby in this economy!

Source:
Mecum

Related:
Mecum's Two-Day Corvette Auction at Bloomington Gold Show
Auction Preview: Mecum Selling Harley Earl's 1963 Corvette Roadster
Technorati Tags:
Corvette | Vette | Chevrolet | Chevy | GM | 1966 | Convertible | Auction | Mecum | C2 | 427 |
Motor Trend answers the age old question: Why race a 638-horsepower Corvette ZR1 against a Boeing F/A-18 Hornet fighter jet? Well, after defeating a Ferrari 599 GTB, the Porsche 911 GT2 and the Nissan GT-R in various head-to-head Motor Trend tests, the Blue Angel is about the only competition up to the challenge. This is the third such time MT has put a Vette against a Jet the video is fun to watch. I won't give away the results, so sit back and enjoy this 19-minute video of
Blue Devil vs Blue Angel
.