News
Photo Credit:
Hemmings
The debate had ranged for months.
To wash or not?
If the budget won't allow you to buy a new Stingray, maybe you can still get your Corvette fix thanks to Hasbro.
You just might not be able to enjoy the high-performance sports car the way you can with the real version!
Word comes this week that Hasbro, the maker of the popular Monopoly board game, has decided to include the 2014 Corvette Stingray in its collection of tokens.
Photo Credit: Edmunds.com
The 2014 Corvette Stingray takes on the world in the latest video from Edmunds.com and comes out second only to a car that has nearly 200 more horsepower.
Edmunds took a day to test the new C7 against six worthy competitors at Willow Springs International Raceway.
Corvette owners love their cars.
But family comes first. Witness the inspirational story of Ben and Sandy Labaree of Alabama.
Thirteen years after Sandy passed away from cancer, Ben continues the legacy that the couple started in the late '90s.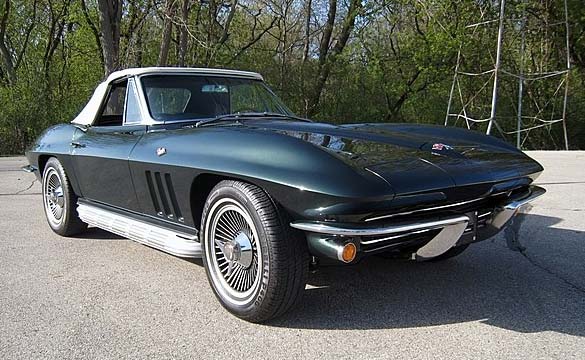 Mecum Auctions blows into the Windy City this weekend for their annual sale. This year they christen a new location with 1,000 vehicles including over 90 Corvettes. The 3-day event kicks off Thursday, October 10th and runs through Saturday, October 12th at the Schaumburg Convention Center. Velocity will have 16 hours of live coverage from Chicago.
Our friends over at CorvetteOnline.com revealed a picture yesterday of what is most likely to be the engine that will be going into the successor of the C6 Z06, the C7 Corvette Z07.
Someone took off in the middle of the night over the weekend with a low-mileage 2001 Corvette Z06 that was being offered by a Minnesota used car dealer.
The silver Corvette, with just 30,248 miles, was up for sale for $20,995 at S&S Motors, 133 Zieske Road in Courtland, Minn., when video surveillance cameras show the car being driven out of the lot through a ditch at 3:07 a.m. Sunday. The thief or thieves then drove west on Highway 14.
Edmunds.com has tested the new 2014 Corvette Stingray against just about every car seemingly imaginable, including the 2014 Porsche Cayman S, 2013 BMW M3, 2014 Nissan GT-R, 2013 Porsche 911 Carrera S, and 2013 SRT Viper.
Now along comes the 2014 Ford Shelby GT500.
Before the test, Edmunds wonders aloud if the Corvette can overcome the deficit of 202 horsepower and 166 lb-ft to Ford's supercar. The quick answer is an overwhelming yes.
The mystery of what happened to Terrance Paul Beghin and his 1982 Corvette 27 years ago appears closer to a solution.
Charlotte County workers found a white Corvette in a canal near Rampard Boulevard and Navigator Road in the Deep Creek area of Punta Gorda, Fla., and it was pulled from the water Wednesday morning.