C2 Corvette
As a 1966 Corvette owner, I have a special affinity for other '66 Vettes. So when I was walking the auction staging area at the 2011 Mecum Kissimmee auction last week I came to dead stop when my eyes fell upon this beautiful 1966 L36 427/390 hp Corvette Convertible painted in Laguna Blue.
Article Contributed by Steve Burns
Our 2011 Barrett-Jackson Scottsdale Corvette preview switches generations now to focus on Lot #1010.2, an unrestored, highly awarded 1967 convertible. Big block C2′s are no strangers to the B-J stage. We see numerous finely restored examples cross their brightly lit auction block at each event. What sets this '67 apart from the others are its low miles, well preserved condition, and multiple judging awards. We'll watch this roadster cross the auction block on Friday night, January 21st on Speed TV.
Article Contributed by Steve Burns
Today we wrap up our preview of RM Auctions 12th annual Arizona sale which will be held January 20th and 21st, 2011 at the Arizona Biltmore Resort & Spa in Phoenix. In case you missed it, here is part 1 of our RM Arizona Auction Preview.
Our selection this time features a trio of 1967 convertibles and a matching set of C1's. Baseball Hall of Famer Reggie Jackson will be offering 2 of the 1967 convertibles. One is a gorgeous black 435hp car and the other is a maroon 400hp, factory air car. GM sold just 840 Cascade Green Corvettes between 1956 and 1957. RM's Arizona sale will feature 1 very nice example from each of those years.
Article Contributed by Steve Burns
Each January the collector car world descends on sunny Arizona while much of the rest of the country stays huddled indoors to avoid the cold winter weather. RM Auctions' 2011 season kicks off with their 12th annual Arizona event on January 20th and 21st at the Arizona Biltmore Resort & Spa in Phoenix. As usual, the docket is full of hundreds of highly desirable collector cars and the 2011 edition will feature 10 very distinct early corvettes.
Check out these six great Corvettes we are featuring today from VetteFinders.com, the Internet's original Corvette classifieds website. Each day thousands of buyers turn to our sister website to find the Corvette of their dreams as we have one of the best selections of classic, preowned and new Corvettes available anywhere.
Here's musician/actor Rick Springfield running errands around Malibu in what looks to be a modified 1963 Corvette. That wide stance and thick rubber on the rear makes me think resto-mod. The passenger side mirror add-on is a nice touch too. Hmmm, Jessie's girl or a '63 Sting Ray?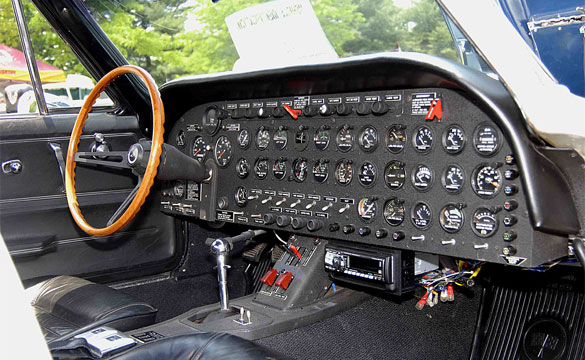 Either this image has been photoshopped or the owner suffers from a major case of gauge-envy. Either way, someone went through a lot of work to make the this midyear Corvette's cockpit look like something that's ready for the runway instead of the driveway.
The Muscle Car and Corvette Nationals get underway in Chicago on Saturday and we're betting one of the highlights of the weekend show will be the reunion of the legendary Baldwin-Motion Corvettes (and Camaro's) with their creator, Joel "Mr.Motion" Rosen. In advance of tomorrow's opening, here's a quick video taken during today's setup. Hit the jump for a few more photos.