Marketplace
Photo Credit:
Hemmings
The debate had ranged for months.
To wash or not?
When Harley Earl left General Motors in 1963, he was gifted with this unique Corvette Sting Ray Convertible that was customized to his interests by the style department he originally created. The Harley Earl Corvette was the featured vehicle at Mecum's 2013 Chicago auction and a little after 3pm ET on Saturday afternoon, the hammer fell with the sold price reaching $1.5 million.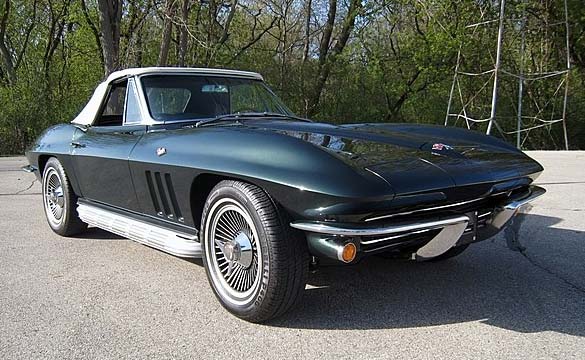 Mecum Auctions blows into the Windy City this weekend for their annual sale. This year they christen a new location with 1,000 vehicles including over 90 Corvettes. The 3-day event kicks off Thursday, October 10th and runs through Saturday, October 12th at the Schaumburg Convention Center. Velocity will have 16 hours of live coverage from Chicago.
If you ever wanted to buy a C2 Corvette for a song, you just missed a good chance.
Over the weekend, the town of Colchester, Conn., auctioned off its 1967 Corvette that had been used for nearly 20 years as the police department's DARE vehicle.
Check out this interesting midyear Coupe we found for sale on eBay. The psychedelic sixties were over a long time ago but sometimes they live on as in the case of the paint job found on this 1965 Corvette, down to the peace sign painted on the gas door cover. The auction still has a couple more days to go and so far the top bid has just surpassed $20,000.
A rare 1957 Corvette featuring the 283/283 hp (RPO 579E) fuel injection sold for $290,000 at Mecum's 2013 Dallas Auction.

This Onyx Black roadster is one of only 43 "airbox" Corvettes produced in 1957 which offered a new fuel injection system helping the 283 Cubic inch engine attain the mythical "one-horsepower-per-cubic-inch" threshold for the first time.

The '57 Airbox Corvette was part of the Buddy Herin collection which also saw the record-breaking $3.2 million sale of the 1967 L88 Corvette Sting Ray at the same auction.
Visit CorvetteVideos.TV for the best selection of hand-picked Corvette videos.