Buying & Selling
by Mitch Talley on October 1, 2013
by Keith Cornett on September 26, 2013
Mike Furman of Criswell Corvette sent us a very cool video showing the arrival of the 2014 Corvette Stingrays to his dealership in Gaithersburg, MD. His first two cars received are a Black Stingray and a Lime Rock Green Stingray. In another post on the forum, we read that the black Corvette Stingray is already on its way to a customer on the west coast who will take delivery at a Chevy dealership in Oregon.
by Keith Cornett on September 22, 2013
On Friday morning, we sat down with Corvette/Camaro's Marketing Manager John Fitzpatrick and Chevrolet Communications' Monte Doran to talk about the 2014 Corvette Stingray. Specifically, we wanted to discuss how the shipping process was working as well as try to get some additional answers on the Quality Assessments that each of the Corvette Stingrays is undergoing before shipment to the dealers.
by Keith Cornett on September 20, 2013
Our friends at Kerbeck Corvette posted this video today of the first truckload of 2014 Corvette Stingrays to arrive at the dealership. These 10 Corvettes will be the first of over 500 Corvette Stingrays sold by the World's Largest Corvette Dealer during the initial 6-9 month rollout of the new C7.
by Keith Cornett on September 19, 2013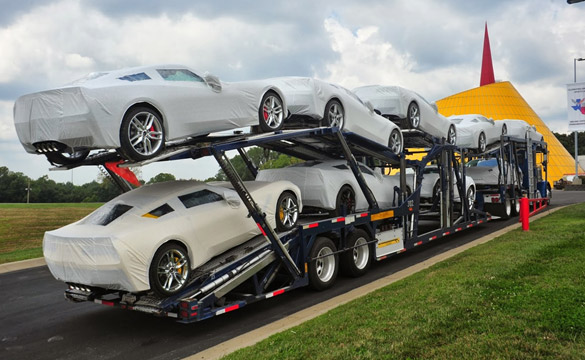 For those of you who have opted to take delivery of your new 2014 Corvette Stingray at the National Corvette Museum in Bowling Green, the good news tweeted today announced the arrival of a truckload of R8C Delivery Stingrays from the plant across the street. The cars will be prepped and the first of many Museum Deliveries start on September 30th.
by Keith Cornett on September 19, 2013
Chevrolet wants its dealers to know the new 2014 Corvette Stingray inside and out so they created the Stingray Dealer Sales Academy, a three day mini-camp for Corvette sellers to experience the 2014 Corvette Stingray in the classroom and on the track.
The Stingray Academy is being held out at Spring Mountain Motorsports Ranch in Pahrump, NV. Corvette sales professional Mike Furman @ Criswell Corvette in Gaithersburg, MD attended the school earlier this week and he provides us with pictures and his review of the 2014 Corvette Stingray.
by Keith Cornett on September 18, 2013
CorvetteBlogger spoke with Adam Boca of the National Corvette Museum's Insurance Agency at the 2013 Corvettes at Carlisle show. Adam talks about differences in agreed value vs stated value as well as what it takes to get a policy written.
by Keith Cornett on September 18, 2013
by Keith Cornett on September 18, 2013
Photo Courtesy of
CorvetteImages.com
Edmunds.com editors have compiled their list of Best Used Cars for 2013 and the Chevrolet C6 Corvette Convertible was selected as the winner in the two-seat sports car category. The editors used a variety of data to help narrow their choices including their own consumer ratings, crash test rankings, owners costs and availability.
by Mitch Talley on September 16, 2013
Let the buyer beware, is no more appropriate than when you're buying something expensive online.
An Illinois man wouldn't argue with that supposition after he wired $35,000 for a 1962 Corvette he's wanted his entire life, only to discover too late that the dealer to which he sent the money doesn't even exist! He's out $35k now.