The Lifestyle
NASCAR's Jimmie Johnson, NFL star running back DeAngelo Williams and Corvette Racing's Johnny O'Connell will get behind the wheel of various Corvette models for the premiere of SPEED's original series Test Drive. Hosted by Tommy Kendall, the Corvette test drives will take place on the streets surrounding Bank of America Stadium in Charlotte, N.C and Carolina Motorsports Park (CMP) in Kershaw S.C. The show airs next Wednesday, December 8th at 10:30 pm EST so get those DVR's set. For a bit of a preview, check out the advance photos we got from SPEED.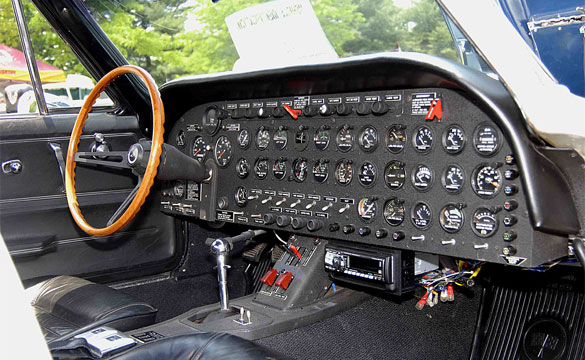 Either this image has been photoshopped or the owner suffers from a major case of gauge-envy. Either way, someone went through a lot of work to make the this midyear Corvette's cockpit look like something that's ready for the runway instead of the driveway.
We first came across Mark Shields (aka Super Genius) replica Corvette Batmobile in May 2006. A salvaged 1978 Corvette was used as the basis to create the one of kind tribute to Tim Burton's 1989 reincarnation of the Dark Knight which featured Michael Keaton in the role of the caped crusader. The Corvette is now listed on eBay with a somewhat steep starting bid of $50,000.
The 6th Annual Street Car Super Nationals was held in Las Vegas last weekend featuring an all star line-up of Pro Street racers. The cold and rainy weather was a factor as winds gusting up to 45 miles per hour caused the event finals to be shortened to 1/8 mile for safety. This 1958 Corvette sponsored by Spec-Rite Torque Converters won Sunday evening's $20,000 Pro Street finale on a 1/8 mile track with a run of 4.039/186.72 mph against a 5.882 ET by Giuseppe Gentile's 2008 Mustang.
Cliff Cohen, GM Performance Parts, is joined with Ken Lingenfelter of Lingenfelter Performance Engineering at Spring Mountain Motorsports park prior to the start of the 2010 SEMA show. Ken brought out a 710 hp Corvette ZR1 and discusses some of the parts and performance know-how that is being licensed from Lingenfelter to GM Performance Parts.
I have a special affinity for barn cars. My own 1966 Corvette spent over 11 years locked away in a barn and I still remember the day of pushing it out into the sunlight and loading it on a trailer. On the outside was a thick layer of dust that covered everything. Inside, mice and other rodents had taken up residence in the engine compartment. For an automotive enthusiast, barn cars are the equivalent of archaeology – uncovering someone's lost or forgotten treasure and making it great again. If you appreciate barn cars and the stories of how they were uncovered, you'll love the new book by Tom Cotter called "The Corvette in the Barn."
Dr. Jamie Meyers from GM Performance Parts talks with Lance Stander from Superformance on the floor of the 2010 SEMA show. Lance discusses the officially GM-licensed Grand Sport continuation program which features GM Performance Part's 556-hp supercharged E-ROD LSA.
The Rossi SixtySix and its designer David R paid a visit to Jay Leno's garage for some quality time with the late night host. Longtime readers of CorvetteBlogger know of our affection for the retro-looking rebodied C6 that the Rossi SixtySix inspires. But now the SixtySix's first real test comes from a passionate Corvette enthusiast whose collection focuses more on later model performance than classic midyear fiberglass.
Pictures Contributed by Steve Burns
Chevrolet dealer Bob McDorman spent years assembling one of the finest and most diverse collections of Corvettes. With models spanning each year of production from 1953 through 2009, Bob also sought out low VIN Corvettes, pace cars and Corvettes previously owned by GM executives and celebrities. In addition to his Corvettes, Bob's collection also featured other Chevrolets and tons of memoriabilia that only a dealer could assemble.
Check out our gallery of photos from the Bob McDorman Auction after the jump.