Corvette Lifestyles
I was interviewed by Mark Leevan over at the Corvette Examiner. Check it out!
I just purchased a brand new iPhone 3GS and created a custom wallpaper featuring my 1966 Corvette to give it a personalized look. Well, once I started down that road, I couldn't stop! So here are nine custom Corvette-related wallpapers we're offering free for your iPhone with installation instructions after the jump.
Installation Instructions:
iPhone-Wallpapers provides this step-by-step guide to installing wallpapers on your Apple iPhone:
Open the image by clicking on it. Then Right-click or control-click on the image you want to use.
Select "Save as…" and save the image to your hard drive.
* Mac users can either save the image to a folder or add it to their iPhoto library. * PC users will want to save the wallpaper into their "My Pictures" folder.
You can then sync the iPhone with photos in iPhoto 4.0.3 or later on a Mac, or Photoshop Album 2.0 or later or Photoshop Elements 3.0 or later on a PC. Or you can sync with any folder on your computer that contains images. Connect the iPhone to your computer and do the following:
Launch iTunes then click the Photos tab and select "Sync photos from:"
From the pop-up menu, do one of the following:
If your using a Mac, choose iPhoto or your Pictures folder.
If you're using a PC, choose Photoshop Album, Photoshop Elements, or your My Pictures folder.
Choose Folder, then choose any folder on your computer that has images.
Choose "All photos," or choose "Selected folders" or "Selected albums" and choose the folders or albums you want to sync.
Finally on your iPhone:
Goto the Photos section of your camera. Browse through the albums or camera roll until you find the picture you wish to use.
Select the picture so it is displayed full screen.
Tap the icon in the lower left corner of the screen. If you don't see the icon, single tap the picture to display the menus.
Here you can select if you want to email the picture, save the picture as a wallpaper, or assign to a contact.
If you want to assign to a contact, press that button. The contact list will open and you can select the contact you wish to link to the picture.
Select Done to complete the process.

Inspiration:
Jalopnik
Related:
2009 Corvette ZR1 Image Gallery
Technorati Tags:
Corvette | Vette | Chevrolet | Chevy | GM | 2009 | ZR1 | ALMS | Apple | Downloads | Free | 3GS | iPhone
The Solid Axle Corvette Club recently held their annual meeting in Ventura, California and one of highlights is the Sunday morning cruise. This year, a contingent of over 60 classic Corvettes drove along Highway 192 with a slight detour around the Santa Barbara Mission. Organizers described the Corvette cruise event as one of the largest gathering of solid axle Corvettes in the world.
Santa Barbara Pix was on scene and has published over 200 photos of the classic C1-era Corvettes driving past the Mission.
If you are anywhere near Bowling Green this weekend, prepare to see a lot of Corvettes. The National Corvette Homecoming will be held this weekend with enthusiasts from around the country descending on the birthplace hometown of their favorite sports car.
The Homecoming has been a mainstay in Bowling Green since 1981. Corvette owners can network with other owners, attend seminars and engage in friendly competition for trophies in the judged car show. Corvette celebrities like Assembly Plant Manager Paul Graham, former manager Wil Cooksey and retired GM employee and C4 expert Gordon Killebrew will all be on hand to share their knowledge and experiences.
The festivities will be held at the Sloan Convention Center and nearby Holiday Inn. The only downside for visitors is that tours of the Corvette Assembly Plant won't be held as the plant is currently on hiatus. For more info and a schedule of events, visit National Corvette Homecoming.

Source:
National Corvette Homecoming
Related:
Coverage of Corvette Museum's C5/C6 Bash
Pictures From The NCRS Winter Regional Corvette Show
Technorati Tags:
Corvette | Vette | Chevrolet | Chevy | Homecoming | Bowling Green | Show | Judging | vendors |
Today is the 43rd anniversary of my father's purchase of a Tuxedo Black 1966 Corvette from Rohrer Chevrolet in Camden, New Jersey. If you are a new reader of CorvetteBlogger, my original post on this topic from June 2007 will tell you a lot about me and my love of Corvettes. It also gives me a chance to pay tribute to my day who I lost in 1982.
Read the original post: 41 Years Ago Today A Young Man Buys A 1966 Corvette…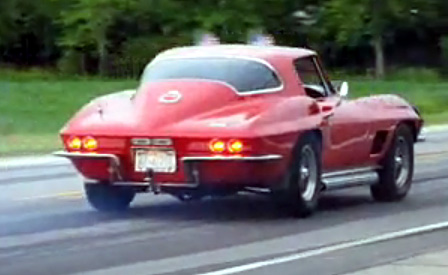 It's always fun when you see a guy riding a classic Corvette hard. In this video from last weekend's Bloomington Gold parade, the owner of this Riverside Red '67 Coupe decides to show how a real burnout is done.
From Corvette Forum Member 67-427ci:
Saturday evening we were invited to attend a picinic held by the Fox Valley Corvette Club which is quite a gathering out in the country. The parade of approximately 500 corvettes goes past the picinc site and is quite a site to see. A few volunteers are out at the road to help control traffic while more cars than I can count stop and do their best attempt at a burnout. Since there were no good C2 attempts made some old guy in a Red Coupe gave it a try.
Stones, indeed!

Source:
67-427ci@Corvette Forum
Related:
[VIDEO] God Bless America: L88 Corvettes on Parade Technorati Tags:
Corvette | Vette | Chevy | Chevrolet | GM | Bloomington | Gold | parade | Burnout | Video | Show
I hope all of you are aware that Friday is the 9th annual "Drive Your Corvette to Work" day. On this day, Corvette enthusiasts are urged to take to their Corvette to the road as a way to say happy birthday to the Corvette, which first rolled off the assembly line in Flint, Michigan on June 30th, 1953.
The idea for the "Drive Your Corvette to Work" comes from Mike Yager of Mid America Motorworks, who launched the event in 2001. The yearly event is held on the Friday closest to June 30th. This year, Mid America Motorworks wants to get as many Corvettes on the road as possible to show support for General Motors. Many believe (us included) that the Chevrolet Corvette is GM's greatest contribution to the automotive world.
"We understand why many owners consider their Corvette to be a special car and only drive it occasionally," said Yager. "But we think driving your Corvette to work, at least one day a year, is an excellent way to demonstrate just how popular Corvettes are. Wave to other Corvette owners: it's a perfect chance for Corvette owners to meet new Corvette owners."
If you participate in "Drive your Corvette to Work", take some pictures and submit them to Mid America Motorsports via clubs@mamotorworks.com and they will be posted at www.mamotorworks.com/corvette
Check out the video of us driving our Corvette to work from 2007′s "Drive Your Corvette to Work" day.
Source:
Mid America Motorworks Related:
[VIDEO] Celebrating Drive Your Corvette To Work Day 2007 Technorati Tags:
Corvette | Vette | Chevrolet | Chevy | GM | Work | Holiday | Drive |
Bob Bondurant's School of High Performance Driving is holding a special Rapid Precision Maneuvers Program (RPM) to coincide with Fathers Day on June 20, 2009. The four hour program is a perfect opportunity to give Dads a chance to drive a C6 Corvette, Pontiac Solstice and a Cadillac CTS-V in a controlled environment.
The Rapid Precision Maneuvers is a four-hour course featuring a timed autocross event, accident avoidance and lead and follow time on the 15-turn 1.6 mile Bondurant track. Bondurant's instructors are renowned for their experience and expertise in training and have taught everyone from professional race car drivers to police officers to teenage students.
"Our Father's Day course teaches valuable driving skills in a fun, action-packed experience," said Ken Thom, president and general manager, Bob Bondurant School of High Performance Driving. "For instance, Bondurant's exclusive autocross course will show drivers the basics of vehicle balance and visual skills, while the Accident Avoidance simulator poses lane change and braking situations that prepare drivers for quick decision making and evasive maneuvering."
In addition to driving the Solstice, Corvette and Cadillac, Dad will also have an opportunity to drive the 45 mph racing Bondurant ProKart.
If you want to give Dad a day he'll remember forever, sign him up for Bondurant's Rapid Precision Maneuvers program. The cost of the event is $349 if you register before June 1. After that, the price goes to $400. Check program availability and register by visiting www.bondurant.com or contacting Travis McClure at 480-403-7648.

Source:
Bondurant School of High Performance Driving
Related:
Bondurant Performance Driving School Featured on SuperCars Exposed

Technorati Tags:
Corvette | Vette | Chevy | Chevrolet | GM | Bondurant | School | Father's Day | C6 | Cadillac
Corvettes and related aftermarket products have always been a big draw at the annual Las Vegas-based Specialty Equipment Market Association's show. Exhibitors brought 30 customized Corvettes to the 2008 SEMA show and 58 Corvette specific products have been displayed during the past four shows. To find out more about owners and their car customizing habits, SEMA's research arm profiled Corvette owners and gathered a significant amount of demographic and lifestyle which they shared through a SEMA E-News report earlier this year.
Registration data from Experian Automotive shows that nearly three quarters of a million Corvettes ranging from 1967-2009 are registered throughout the United States with California, Florida and Texas leading the way.
Corvette owners are passionate about customizing, presenting their cars and the automotive lifestyle. 87% claimed to have purchased a custom part or accessory within the last 12 months. Compared with other sports car owners, Corvette enthusiasts are more likely to purchase accessories and electronics.
The top products purchased by nine out of 10 Corvette owners were automotive polishes and waxes (90.7%), followed by exhaust upgrades (54.6%). Nearly half of the top 25 products purchased by Corvette owners are performance related, including intakes, brakes and tires.
One in four Corvette owners modify their engine control systems, valvetrains and electrical systems, while the most popular accessories include floor mats, license plate frames and alarm systems. Corvette owners who make purchases of specialty equipment often do so within a short span of time after obtaining the vehicle.
Nearly seven out of 10 (69%) owners surveyed made their first purchase during the first two months of ownership. And split nearly in half, Corvette owners buy from both traditional brick-and-mortar outlets, including from mail order, installers and at shows, while 51% purchase from Internet retail.
Other demographic data on Corvette owners includes:
Source:
SEMA
Related:
Five Corvette Detailing and Cleaning Products for Show and Go
Replica Corvette ZR1 Wheels Now Available
Technorati Tags:
Corvette
|
Vette
|
Research
|
Demographics
|
owners
|
SEMA
|
Lifestyle
|
Products
|
Accessories
|
Purchase
We've always known TV host Jay Leno was into Corvettes, but how cool is it that he invited Alex and Greg from the SmokinVette.com Corvette Forum to bring their Corvettes down to his Garage for a little show and tell. Both these Corvettes are highly modified and Jay seemed to be extremely interested in Greg's rear mounted turbo setup. After the show and tell, Jay takes the Corvettes for a ride.
We just recently joined the SmokinVette.com Corvette forum and we've found another cool place to hang out and talk Corvettes. Make sure you take a look at the Virtual Car Show that is currently running as you can win some of the $10,000 in cool cash and prizes.

Source:
www.SmokinVette.com
Related:
SmokinVette.com's Annual "Virtual Car Show" Offers Over $10,000 in Prizes
Technorati Tags:
Corvette | Vette | Jay Leno | Garage | Car | Show | Prizes | SmokinVette.com | Forum