Photo Credit:
kmov.com
Police and fire rescue in St.Louis responded to an accident in the early morning hours of June 25th found a stolen red C6 Corvette had crashed into a Boost Mobile cell phone store.
Fox2Now says the Corvette was stolen during a carjacking about an hour before the accident. The Corvette owner was at the scene of the crash and he told police a car had pulled up behind him and was flashing its headlights. He pulled over and was jumped by two individuals while a third man stole the Corvette.
The crash occurred around 3:45 am at the intersection of S. Jefferson and Lafayette near Lafayette Square.
The St. Louis Fire Department was on the scene and they had to extricate the driver from the Corvette. He was transported to a local hospital in stable condition. The report says a St. Louis police officer was on-board the ambulance during the transport.
No additional details have been released but we're thinking speed was probably a factor in the crash.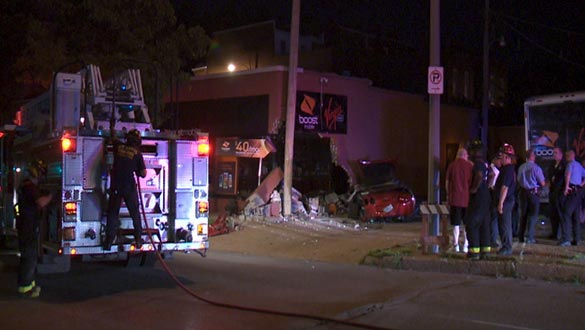 Photo Credit:
kmov.com

Source:
kmov.com and Fox2Now.com

Related:
[STOLEN] 1963 Corvette Recovered After Thief Wrecks During Police Chase
[STOLEN] Little Red Corvette Goes Missing in New York
[STOLEN] 1962 Corvette Stolen In Pacific Grove, CA