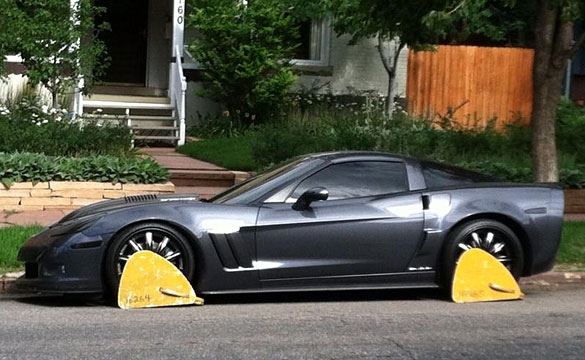 We found this picture on Facebook of a Callaway Corvette Grand Sport that got double-booted in downtown Denver. We shared it on our page, but it's too good not post here.
So what's the deal in Denver? Do you pay by the boot or are the parking cops just making sure that Corvette isn't going anywhere?
Click here to see a larger version of the booted Callaway.
if you like the photo, make sure you "LIKE" us on www.Facebook.com/CorvetteBlogger.

Related:
[VANITY PLATES] Seriously, what are the odds that bring this Mustang and Corvette together?
Callaway Corvette's AeroWagonette is our Favorite April Fools Joke
[VIDEO] Hitler Finds Out About the C7 Corvette